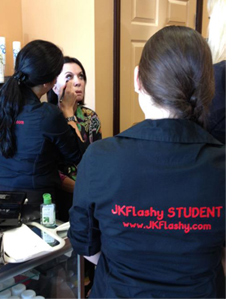 JJill K., is the Owner & Founder of JKFlashy Makeup Service, Inc., the first and highly regarded upon Makeup Service Company in Westchester County. Westchester Magazine, 914 INC., The Knot, Westchester Weddings, ENJOY, are some of the various publications JKFlashy's work can be found in. Awards include Best of Westchester / The Knot Best of Weddings / Wedding Wire Bride's Choice Awards / Wedding Wire Best of Weddings, numerous write ups in "Style Me Pretty" amongst other popular blogs. Jill K. has been featured on Channel 12 News for bringing together a significant number of high end vendors for a large scale photo shoot.
Jill K. has been approached numerous times to teach Makeup, her craft, her skill & "inside secrets," and has chosen to remain exclusive to teaching The Advanced Makeup Course at the New York School of Esthetics. Each Advanced Course is three weeks long & offered in the Day & Evening.
Each Advanced Course is three weeks long & offered in the Day & Evening. Students are encouraged to observe & receive "hands on" experience by "shadowing" outside of the classroom with Jill K.'s company, JKFlashy Makeup Services, Inc. Please email Jill directly for all details, [email protected].
WHAT WILL YOU BE ABLE TO DO WHEN YOU COMPLETED THE ADVANCED MAKEUP COURSE?
You have covered Basic in your Estectics Course *this is ADVANCED MAKEUP*
You will be completely fluent in Makeup Artistry
Your Makeup Kit (included) in your Tuition has THE BEST assorted makeup, including MAC, Bobbi Brown, Inglot, Makeup
Forever & JKFlashy Cosmetics. *Also, includes an AIRBRUSH SYSTEM*
Proficient & comfortable working on any skin tone
Understand the difference in foundation options & have all in your kit
Understand Airbrush, It's Benefits, Competence in Application
Understand how to communicate the difference in options to clients & whats best for your client
Competence in Eye Lash Strip / Individual Waterproof Eye lashes (NOT PERMANENT)
Have direction as to Career Opportunities / Path & Goals
Be able to work in the Cosmetic Industry in any Makeup Artist Position
Apprenticeship opportunities may be available, during the school session, for a Highly Regarded Makeup Service Company in Westchester County / New York City.
*Duration of Internship: As much time as you want to invest while class is in session.*
Internship Opportunities May Include but Is not Limited to:
Engagement Sessions *On Site Locations & Makeup Applications
Weddings *American *African American *Greek *Non English Speaking *Same Sex *Nigerian *Spanish Speaking *Albanian *Jewish *Catholic
Fantasy Engagement Sessions *On Site Locations & Makeup Applications
Working with some of the Top Videographers & Photographers in Westchester & NYC.
Working doing Cover / Various Print Cover Shoots
Pageantry Makeup
Pageantry Makeup Lessons
Makeup Lessons for Men that are Considering Gender Changes
Makeup for TV
Makeup Lessons suited for your client's needs