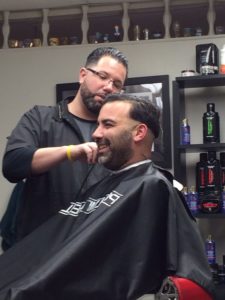 Men's Hot Shave
A relaxing experience for a gentleman. Incorporating exfoliation of dead skin which results in a superior shave & reduces ingrown hairs. Master Barber, Domenico "Nino" prepares the skin with Aromatic oil followed by a hot towel to soften the skin. The clean, hydrated skin is then lathered with a special shaving cream. A very smooth shave is the result of this "spa like" experience!
Enjoy a Hot Shave in addition to a hair cut, clean up or on its own!
For the sophisticated Groom indulge the night before or the day of your wedding in a hair cut / clean up & hot shave for you & your men!